When you are building this Galaxy Gate, it is highly recommeneded that you either keep building your Alpha Gate and Beta Gate until you complete this Galaxy Gate or just construct it from what you have.
This gate needs 82 parts in order to be constructed, which is approximately 300,000 to 650,000 Uridium . This price may change vastly, depending on how you use your Galaxy Gate spins.
In total sunt 10 runde, fiecare runda avand 4 valuri.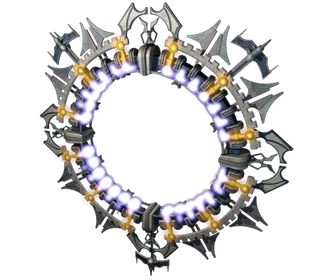 De la prima runda la ultima:
40 streuner
40 lordakia
40 mordon
80 saimoniti
20 devolarium
80 kristallini
20 sibeloni
80 sibeloniti
16 kristalloni
30 protegiti
Poarta Gamma
monstrii au "triplu" decat cei normali, respectiv dublu HP (hitpoints), PE (puncte de experienta), onoare, uridium, credite si lovesc cu o forta dubla;
Ceea ce primesti doar in urma monstrilor din portaluri:
Poarta Gamma
PE 7,401,600
Onoare 37,008
Credite 37,468,800
Uridium 19,464
Ce primesti in momentul in care l-ai incheiat?
Poarta Gamma
60,000 munitie x4
60,000 uridium
12,000,000 exp
300,000 onoare
1 Inel de Aur